Understanding that people, including employees of INSEE Vietnam as well as the communities where the company operates, are the core of its long-term success, INSEE Cement has spent much efforts improving the life quality of people through practical activities.
The firm has attached importance to various aspects of the community by conducting relevant programs through which it seeks to give back to the community for joint development. Specifically, INSEE Vietnam as a leading supplier of building materials has developed infrastructure projects for the community to realize its social responsibility.
At the beginning of this year, INSEE Cement cooperated with Nippon Paint Company and Cuong Thanh Development Trading Production Co., Ltd to build a house of gratitude in Suoi Da Commune, Duong Minh Chau District, Tay Ninh Province. The company donated 390 bags of INSEE Wall Pro cement for the project.
In addition, droughts and salinity intrusion are among the biggest challenges facing residents in the Mekong Delta, so INSEE has ceaselessly supported the region to deal with the issues. Within the framework of the "Bring fresh water to the Mekong Delta" program jointly conducted by INSEE Cement and Tuoi Tre newspaper, INSEE Cement has installed 700 meters of water pipelines for residents in Ba Trai and Hon Trem Hamlets of Kien Giang Province's Kien Luong District.
In March this year, the company built three roads in Thanh A Hamlet of Ben Tre Province with a total length of 420 meters to facilitate local residents' travel.
Since last year, Covid-19 has been the biggest issue of public concern. Multiple individuals, organizations and enterprises have joined forces in the fight against it and INSEE is not an outsider to the fight.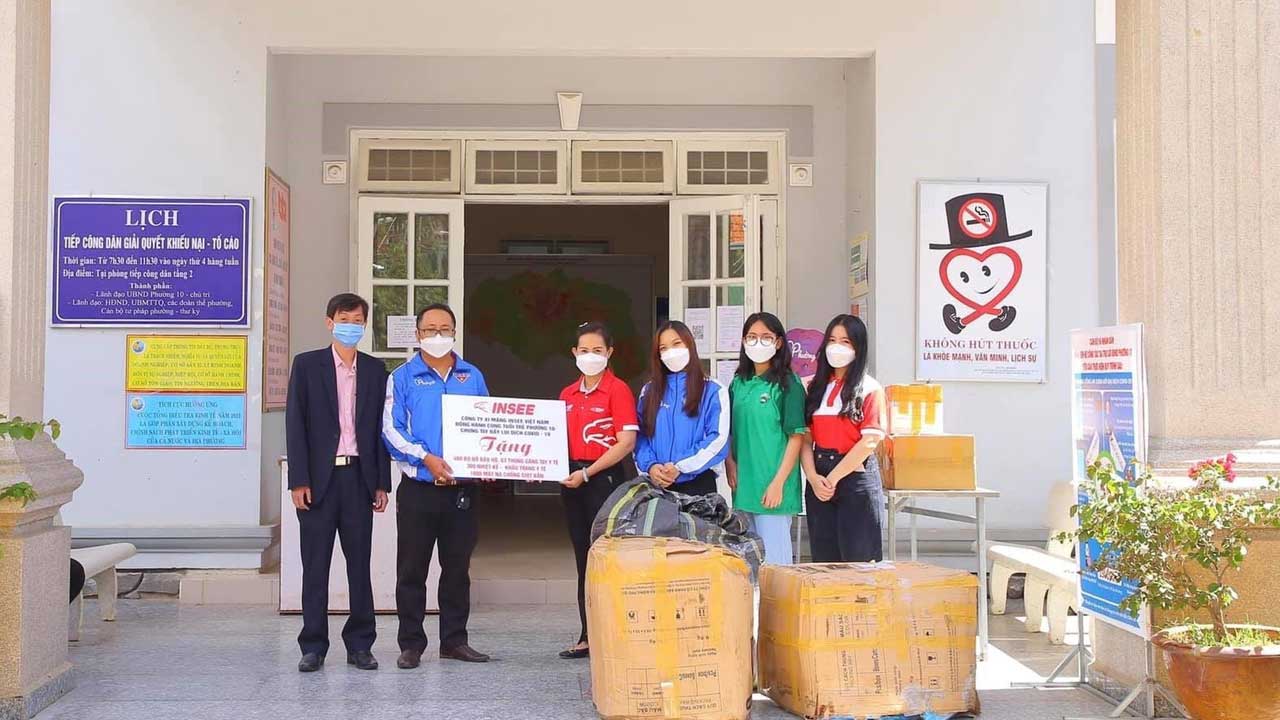 Understanding the hardship of frontline forces who have worked day and night to combat the pandemic, INSEE has carried out many programs, especially those to support masons. The firm has coordinated with Thanh Nien newspaper to lend a helping hand to 400 masons who were stuck in HCMC due to the Covid-19 pandemic, providing them a total of VND200 million.
The cement producer has also paid much attention to medical workers. At the end of July 2021, it donated medical supplies, including 400 protective suits, 300 thermometers, 1,800 face masks, 1,500 pairs of medical gloves and 1,000 face shields, to medical workers in Dalat City.
In addition, INSEE Cement has sponsored the free ambulance service of Ben Tre Province's Giong Trom District to help transport patients in the district to the nearest healthcare facilities amid the extremely complicated pandemic.
In Kien Giang Province, Andy White, director of INSEE Hon Chong Cement Factory, has handed over 1,000 Covid-19 test kits to the government of Kien Luong District, supporting the testing and tracing work in the district.
At INSEE, the community development is always a highlight of its development targets. With the brand philosophy of "Build for Life", INSEE commits to contributing to the society, making life better for the community.