For a cement manufacturer, it is by no means unfamiliar when choosing a brand philosophy to be "Build for life". However, at INSEE Vietnam, whose cement factory is located in Kien Luong District, Kien Giang Province, the implications behind this brand philosophy are quite significant: helping build a community where living is more worthwhile. Over the years, INSEE Vietnam has devoted itself to bettering the community in a wide swathe of areas, from environmental protection, education support, rural development to direct donations to bring happiness to numerous people.
"At INSEE, we establish social responsibility as a pillar of our Sustainable Development Strategy alongside other initiatives such as climate and energy, circular economy, biodiversity, water resource management, and occupational health and safety," said a representative of the company. "To us, sustainability plays an important role in both medium and long term vision and strategy, and is considered as the key to actualize our INSEE's brand philosophy of "Build for life".
Support for education
Over the years, INSEE Vietnam has implemented many programs to improve the quality of life through training and education for the community. Specifically, the company has implemented the Enterprise Vocational Education (EVE) to develop and improve labor capacity and job opportunities in the locality. Therefore, the EVE program has helped the company train and find suitable human resources for key technical positions.
Each training program lasts three years, and is built by Kien Giang College with the participation of INSEE experts to develop local human resources. During the past 21 years, the EVE program has trained 239 talents and most of the graduates have chosen to join INSEE.
Another outstanding program is the INSEE Prize, which is a playground for architecture and construction students nationwide to manifest their knowledge and skills about sustainable construction and the environment. This is considered a prize for students to implement their knowledge, have the opportunity to experience, construct practical projects and help to solve urgent social problems while creating value for the community.
Over the journey of 13 years, according to the company, the INSEE Prize has directly invested more than VND3.2 billion and mobilized approximately VND10 billion from partners to implement nine projects to benefit more than 5,000 people across the country.
As a leading company providing building materials and waste management solutions, INSEE always strives for the goal of developing infrastructure for the community as a crucial social responsibility pillar. The most prominent project is the construction of Kien Binh 2 Primary School in Kien Luong District, Kien Giang Province with a total investment of more than VND20 billion. This is a specially meaningful project for the locality, enabling more than 700 students from difficult households and ethnic minorities to continue schooling, and at the same time providing a modern and comfortable living and teaching space for local teachers and children.
INSEE has also organized a volunteer program to help repair and renovate Duong Hoa primary school, Bai Cha Va campus in Kien Luong District because of the school's serious deterioration. Furthermore, the company has also accompanied partners and customers to build 14 civil bridges and more than 120km of roads in the area to serve the convenient and safe travel needs of people.
Commenting on its support for education, an INSEE Vietnam executive explained the company's corporate social responsibility (CSR) strategy focuses on three main strategic areas: sustainable development of the community, building infrastructure, and supporting education across southern Vietnam.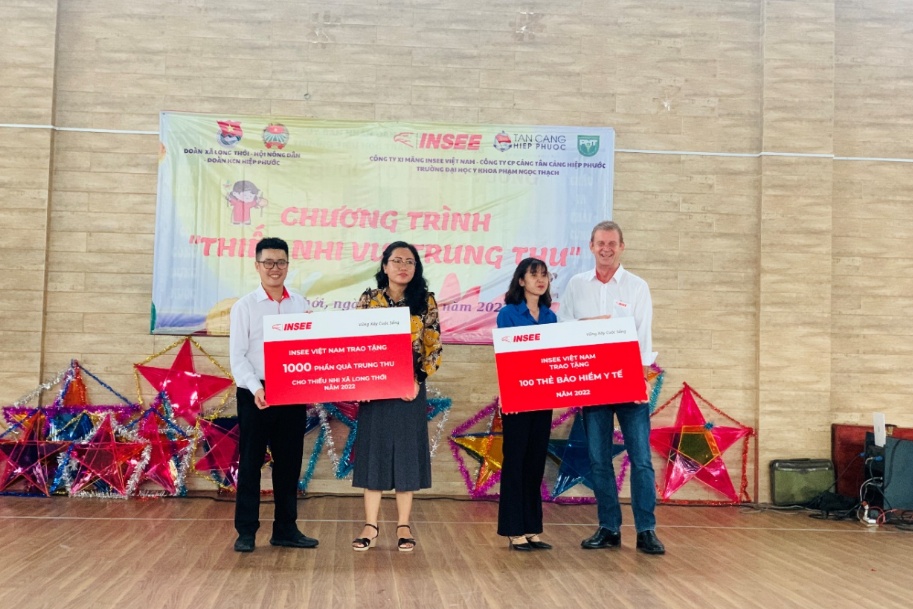 Rallying community spirit
As Vietnam experienced a grim period of the Covid-19 pandemic, INSEE Vietnam has implemented meaningful projects of "joining hands for the community".
Specifically, the company has continuously conducted annual community support activities such as health checks for the less-fortunate elders, health insurance cards for students and elderly people who are in need, and caring for children around the area where INSEE plants operate through meaningful activities such as gifts and fun games for children on the occasion of the Full Moon Festival, and Lunar New Year donations to disadvantaged families.
In addition, INSEE has organized many programs to support the completion of houses for masons from poor backgrounds, such as the project "Unfinished Walls", and accompanied partners in plastering houses for less fortunate households.
In 2022, INSEE has also cooperated with universities in the "Green Summer 2022" campaigns to hold volunteer activities, contribute to concreting and changing the appearance of rural areas and join hands in the development of difficult areas. With the spirit of mutual affection, INSEE staff have contributed more than 5,000 hours of volunteering through community activities, which is also one of the key elements to help INSEE develop stably and sustainably to create value for the community and society.
"Through social activities that have been implemented, INSEE Vietnam has promoted the strength of solidarity and humanistic spirit towards the community and society. In the upcoming time, the company will constantly strive to balance the three goals of economic growth, environmental activities and social responsibility," said the company's representative.
In particular, the activities of jointly constructing a sustainable community is an important pillar that INSEE focuses on deploying, in accordance with INSEE's brand philosophy "Build for Life".