For 33 years specializing in creating high-end fashion products to an extreme of exceptional quality, Poongin is increasingly asserting its position in the market. Still, it is not an achievement anyone can attain over one night. As the name implies, it represents a South Korea -Vietnam journey of hardship and solidarity from Poongin. On the occasion of the company's 33rd anniversary, Jay Park, president and CEO of Poongin Trading Co., Ltd, spoke about the journey to make a name for his company.
In your over-three-decade journey as a global Korean-based company specializing in the production of high-end fashion brands, what made you decide to invest in Vietnam?
Our company first set up our factory in Ho Chi Minh City in 2006. We create very high-end products and thus have a very high standard. Vietnam has highly skilled workers who are passionate and diligent. It was not hard to see the attractiveness of Vietnam for our company. With this in mind, seven years ago we started to move our company from Korea to Vietnam and are now on our path to making it the hub of the future of our growth and globalization. This is why we decided to hold our 33rd anniversary in Ho Chi Minh for the first time rather than in Korea. We want to show our movement to becoming a globalized company and to recognizing Vietnam as our main operations hub and the future of our company.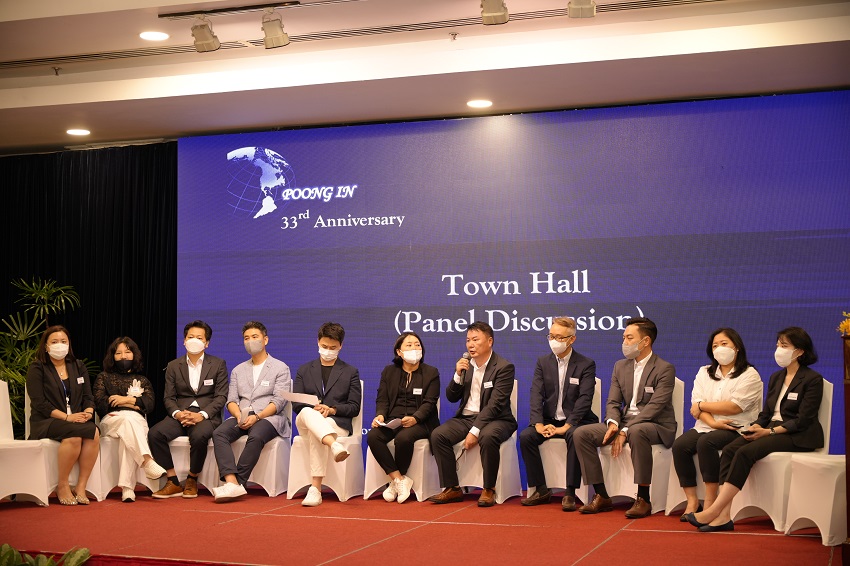 A 33-year period is sufficient for businesses to make their mark and shape a certain market's growth mindset. So, what are Poongin 's core values in Vietnam?
As mentioned before we want to make Poongin the global hub of our company and thus we are working on improving our company culture. In order to do this, we first want to empower decision making by giving our employees more autonomy. This means that employees will work directly with customers and control factory procedures individually. Another important company value we have is teamwork and collaboration; it is important for Korean and Vietnamese staff to work together as collaborators to be able to accomplish great things together.
Given the negative effects of Covid-19 in recent years, what are the challenges the company has experienced?
Covid-19 was a very hard experience for everyone and our company was no exception. In order to protect employees, with very little notice, our Vietnam factory was on lockdown for four months. As you can imagine, this has led to tremendous loss due to late deliveries and cancelations. It was a very difficult time, however, we were able to push through and overcome this difficult period and are looking forward to our development moving forward.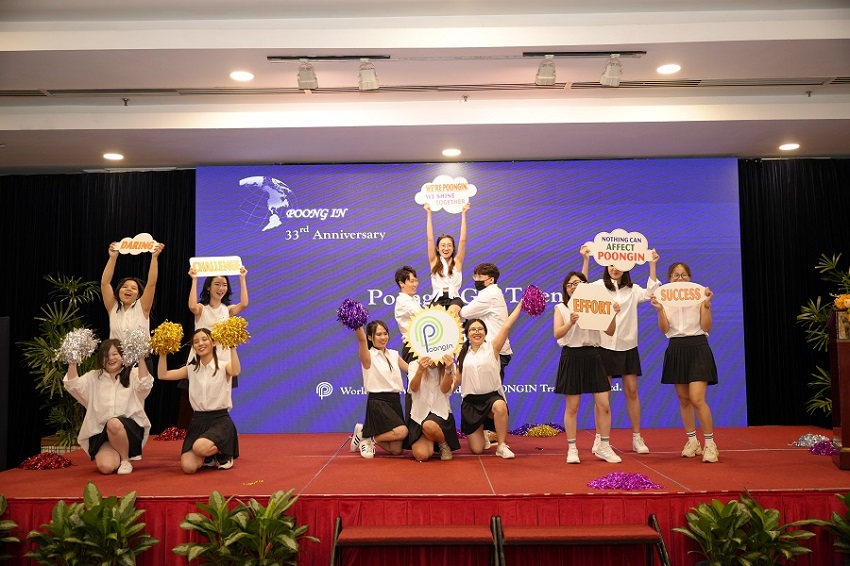 What did you do to overcome difficulties and strengthen your position in the market after Covid-19?
After Covid-19, it was the turning point for our company. We diversified our manufacturing to the Philippines and Guatemala. However, Ho Chi Minh, Vietnam is still our focal point so going forward we want to focus on Vietnam and the empowerment of our staff here. We have many goals moving forward that will help strengthen Poongin. The first one is to increase the business volume with our current and new customers and focus on athletic wear. We are working on strengthening our R&D team. Our Seoul R&D branch has recently relocated to Hanamdong, a leader in Korean fashion trends, to help inspire and innovate future designs. In Ho Chi Minh we will continue to expand our 3D and design team. And finally we will open our R&D studio in New York. Of course updating tech, and focusing on automation is also a major goal, as well as strengthening our use of digital platforms such as 3D Clo and online communication tools. Since Ho Chi Minh is a great raw material developer and supplier we are planning to move from imported materials to using local materials and collaborating with more local companies. Finally, we are striving to make our facilities and company practices more ecofriendly starting with the design of our new factory in Quang Tri. There is a lot to do, but I am confident our team can make it happen.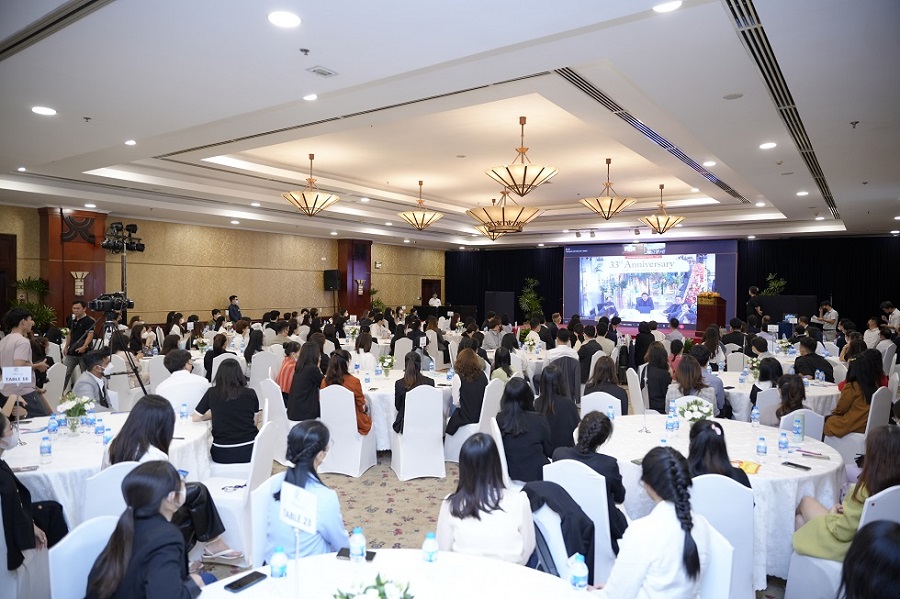 Currently, the demand for goods processing is on the rise, along with increasing competition among enterprises. What is your opinion about this? Could you introduce ways to increase the competitiveness of your business?
There are always challenges in this regard, but I believe the key to secure our position in terms of competitiveness is by having the right employees. We want to make Ho Chi Minh the No. 1 factory in the world and to do this we have to have motivated and good workers. So in order to avoid burnout and to empower our employees we are always working to improve their work environment and standard of living. Poongin recognizes that life quality directly effects work efficiency and that is why we always invest in education, improving our equipment and tech, giving our employees more autonomy and making more environmentally friendly working facilities. With education and more flexible practices I think we will be able to meet the increasing demand and improve competitiveness.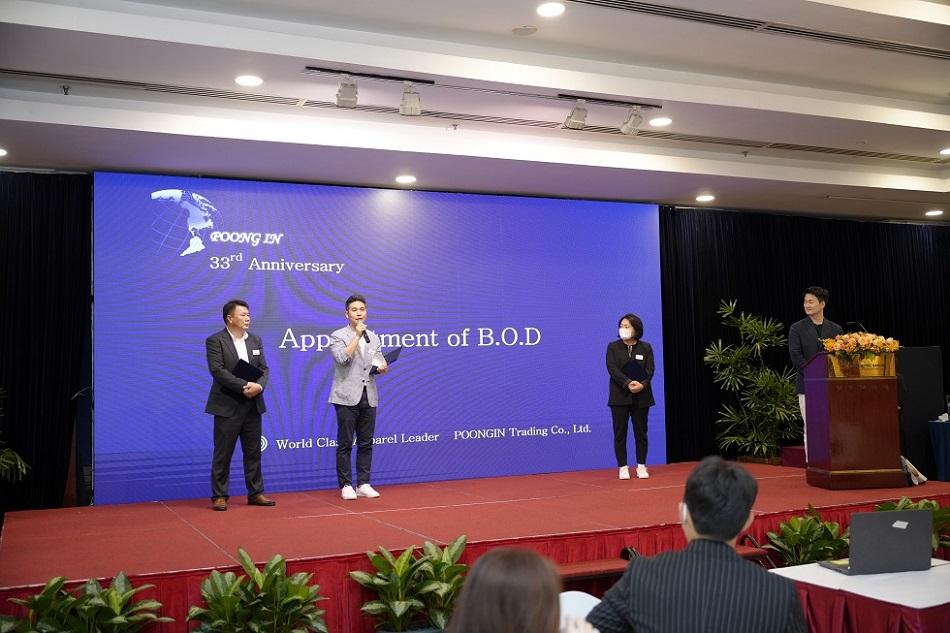 In 2023, what development orientation will the business have to continue its success in Vietnam?
Now that the move from our Korean office to Ho Chi Minh City is almost complete, the next task will be smoothing out and improving work practices. Right now our Korean staff is taking on the role of educators, while our Vietnamese staff have been learning. However, the next step is to move from educators and learners to equal collaborators by taking on leadership roles. Once again, this brings us back to giving our employees autonomy and more freedom in decision making. Moving forward autonomy will be a key factor in business success. I'm very excited to see the direction Poongin will move in the following years.