Since its inception in 2011, PetroVietnam Ca Mau Fertilizer JSC (PVCFC) has seen fulfilment in both business and community activities. Pursuing its philosophy of sharing and giving back to society for the betterment of all walks of life, the local fertilizer producer has implemented a variety of social programs to benefit needy people and create positive values for society over the past 11 years.
Care for future generations
Seeing the next generation as a key factor for the advancement and development of the country, PVCFC has always paid much attention to education via multiple corporate social responsibility (CSR) practices over the years.
To accomplish a big mission of "Growing People," the firm has launched the "Golden Pearl Seed" scholarship fund to nurture poor students' dreams of schooling. Besides, the fertilizer producer has been building school kitchens, libraries and schools; giving bicycles and learning tools to needy students, contributing to the growth of education in Vietnam.
In early September 2022, PVCFC started its scholarship program in many remote areas in Ca Mau Province and elsewhere in the Mekong Delta region, as a way to promote the role of an education benefactor, heading towards humane values.
This year, PVCFC set aside VND880 million worth of 1,280 scholarships to benefit underprivileged students at 60 K-12 schools across the region. The firm also awarded hundreds of scholarships to university students in the Mekong Delta region in October. Moreover, thousands of gifts have been presented to students by PVCFC as a motivation for them to study harder.
With its generous support for education, the company aimed to join hands with local authorities to honor the tradition of studiousness and spread positivity and determination in the community.
Speaking at a scholarship award ceremony, a representative of PVCFC said: "We hope that the scholarships will encourage poor students to pursue their dreams of learning and gain good results in the future."
In pursuit of developing the educational environment in Ca Mau Province where the company's factory is located, PVCFC has also teamed up with the provincial Department of Education and Training to roll out extra-academic activities, career consulting sessions and social programs on education among others.
The cooperation was aimed at enhancing the human resources and spreading the tradition of studiousness, contributing to enriching the country.
Despite challenges in business activities due to economic uncertainty and the Covid-19 pandemic, PVCFC is always consistent in its scholarship program to give a leg up to more disadvantaged students nationwide.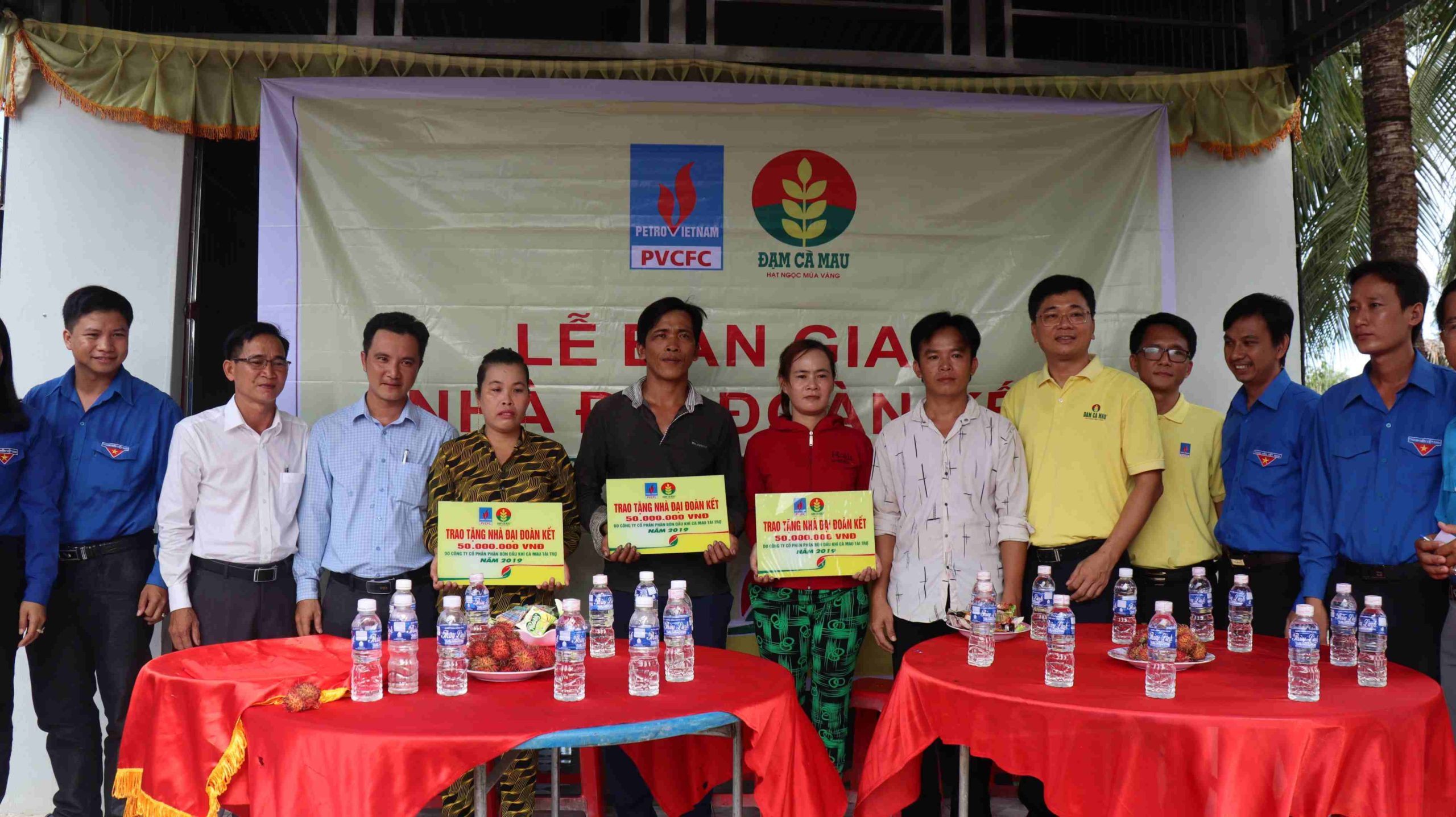 Wholehearted supporter of the community
Apart from its endeavor to develop the education sector, PVCFC has wholeheartedly been initiating a host of social programs in various fields to spread love across the country, more so in the agriculture sector.
PVCFC has accompanied farmers to ease their hardships, especially during the pandemic. In 2021, when the pandemic took a heavy toll on agricultural production and consumption activities, plunging farmers to heavy losses, PVCFC quickly launched a relief aid package to help farmers ride out the difficulties.
Specially, through its "Together with farmers to overcome hardships" program, farmers in the southern region would get a top-up card worth VND50,000 and a bag of Ca Mau fertilizer after buying one Ca Mau product.
Over the past few years, the fertilizer producer has carried out countless programs to benefit farmers, namely "Supporting farmers to overcome hardships," "I choose Ca Mau Fertilizer" and "Winter-Spring Prosperity-Good Fortune Comes."
Furthermore, the firm regularly launches promotional programs and offers discounts to farmers suffering drought and salinity intrusion to stimulate them to bolster agriculture.
For the green development, the firm has joined hands with local authorities to plant trees, with a target for 300,000 trees grown by 2025.
As an active contributor to society, when the Covid pandemic reached the peak in 2021, PVCFC promptly made donations to the Government-launched Covid vaccine fund and Ca Mau's vaccine fund, and donated ambulances worth over VND15 billion to many cities and provinces to fight the Covid pandemic.
In July 2022, when storms and strong winds hit Ca Mau and several Mekong Delta provinces, resulting in the collapse of several houses and a loss of crop yield, PVCFC collaborated with some units to donate 250 sets of gifts, including cash and rice, contributed by PVCFC employees, to affected households in Ca Mau Province.
Among its CSR activities, the "Lightening countryside paths" program is aimed at contributing to improving the quality of life for residents. In March 2022, the firm handed over six lighting systems with a total cost of VND300 million to U Minh District in Ca Mau Province.
Education, healthcare, construction, living quality and green development are always key pillars of PVCFC's CSR agenda which rallies both executives and employees at the company. At PVCFC, each employee acts as an ambassador of sharing love and creating positivity.
This year, 2022, is wrapping up, while PVCFC is enjoying positive business results and happiness of giving. As one of pioneers in community activities, the fertilizer producer will continue to beef up CSR practices to spread kindness.