A short story about the business of a supermarket chain in France owned by a Vietnamese family.
After more than two years of being stranded in Vietnam due to Covid-19, I had a chance to revisit Thanh Binh Jeune, a Vietnamese supermarket chain in France, and was startled to notice that this supermarket had had a much brighter layout (in Vietnamese, thanh binh means peaceful). There were fewer goods on display obviously as a result of disrupted transport routes. However, quite a few products had popular brands. I got excited to meet the store's owners. We had made a rendezvous long before.
Ngo Minh Duong, one of the three current owners, told me that his parents, Ngo Van Nhan and Ngo Thi Hang, are people from northern Vietnam resettling in the south prior to the 1954 Geneva Treaty—a peace accord which divided Vietnam into North Vietnam and South Vietnam. His father soon became one of the famed estate developers in the then Saigon, now HCMC. He took part in the construction of Tan Son Nhat Airport in Saigon in the early 1960s. Because of the future of his kids, in 1968, Mr. Nhan made up his mind to move his entire family to France where he started a business trading in Asian food.
From a small shop of several dozens of square meters on Maubert Square in the 5th arrondissement of Paris, Thanh Binh supermarket, named after one of their twin daughters, developed considerably because it was a pioneer and the devotion of their parents, said Thuy Binh, the other daughter. Joining his elder sister, Mr. Minh Duong said his parents shared not only the same birthplace and family name but also the same perspectives on life. They also passed away in the same year, he said. Seeing how their kids addressed one another, observers may recognize the warmth and respect expected of a traditional Vietnamese family.
As his dad was a construction contractor, Ngo Minh Duong studied and graduated from an architecture school. However, after graduation, he helped his parents manage their family brand name. Thanh Binh Jeune currently has three outlets, of which the one at 20 Avenue Verdun 94200 Ivry Sur Seine is the most famous. This outlet has gained fame not only because it covers 3,700 square meters and more than 90% of the goods for sale there are from Vietnam but also because every year—except for the past two years (due to the pandemic)—the supermarket plays host to a crowded and merry Tet (Lunar New Year) fair with performances by artists from Vietnam. According to Mr. Minh Duong, holding fairs is not profitable or even in the red; however, his family wants to create an ambiance of Tet for Vietnamese customers, especially for their kids, who will probably become part of the chain's future patronage.
Being purely eastern Asia is its official slogan. However, the real target of Thanh Binh Jeune is purely Vietnamese. To reach this goal, over the past half a century, the whole family has worked like hardworking ants to bring in the best food Vietnam has to offer. Aside from profit, Thanh Binh Jeune has assigned itself a mission to popularize Vietnamese goods in Europe. The first among the list is rice. After many trials and errors, Thanh Binh Jeune has officially imported ST 24 rice with the emblem of a Vietnamese lady in her ao dai (long dress). According to Mr. Minh Duong, the mission on rice is being continued.
When asked whether they suffered from a loss of credibility because of bad commodities, the sisters and the brother of Thanh Binh Jeune said occasionally they received substandard quality goods from Vietnam. However, that situation is history. Vietnamese commodities are now very reliable. The reason is, aside from the quality of the goods, the numbers of Vietnamese resettling in Europe and Europeans who have visited Vietnam are higher. And Thanh Binh Jeune has taken the opportunity to diversify their goods.
Small but efficient
During our first meeting 10 years ago, Ngo Minh Duong was rather taciturn. However, this time, his Vietnamese command was fluent. He said their business philosophy is built on four criteria, including transparency, sincerity, safety and contemporariness. The simple secret of all is putting themselves in the position of the customer. In fact, in addition to commodities which mostly cater to "nostalgia," almost everything that exists in Vietnam can be found at Thanh Binh Jeune. On the visit this time, I felt excited to find that both fresh and dried bamboo sprouts wrapped in transparent packages. Also available was mang luoi lon (a kind of local bamboo sprouts in Tuyen Quang Province in northern Vietnam). Customers had to buy these products in cans from Thailand.
I knew this family back to 1990 when I attended Nantes Film Festival. At the time, Ms. Thuy Binh was responsible for the cultural product stall of the Vietnam House in Paris. Later, they continued to be my audience when my films were shown in France. As for me, given my taste for Vietnamese food, I have been a customer of their outlets. Their shops back then were still humble. However, since 2012, Thanh Binh Jeune has carried out plenty of renovations. In particular, cultural products have their own corner which has become an address where Vietnamese in France can find their Tet reading.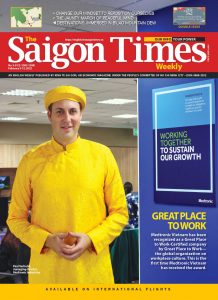 Replying my question about the facelift in 2021, Ngo Minh Duong said it was in line with the global trend. During the pandemic time, he explained, humans managed to have time to rethink their philosophy of life and work. Going in the same direction, Thanh Binh Jeune continued to upgrade its "culinary bridge" to become the pride of many Vietnamese in Europe.
Talking about the future, Mr. Minh Duong said it would depend on…Covid-19. Yet in short, he said, it will continue to capitalize on specialties of the three regions of Vietnam, develop online business and pay more attention to French customers, who in addition to their taste for Vietnamese food also like Korean and Japanese dishes. Compared with Chinese supermarkets in Paris, Thanh Binh Jeune is smaller in scale. It is small but efficient, Mr. Minh Duong said. What is "being efficient" he was talking about? It's the pleasure of its customers, I think.
Strangers who will continue to build the bridge
A decade ago, when asked who would continue to build the "culinary bridge" he mentioned because none of the next generation has followed other professions, Ngo Minh Duong talked about "strangers," which meant people not from his family. Now, before my eyes are four of such "strangers." They are all Vietnamese who studied in France and stayed here to work for Thanh Binh Jeune.
In the office of the three owners of Thanh Binh Jeune, which is very simple in contrast with the decency of the supermarket, the four young men said they are happy to work here because it gives them a friendly, democratic atmosphere, and all share the same development goal.
The new members full of energy prompted me to congratulate the three owners for their success in finding the next generation.