BASF, one of the world's leading chemical companies, has been active in a range of social engagement programs to provide the community with the improved quality of life. The company has actively integrated environmental protection and social responsibility into its business strategy, especially in helping the community familiarize themselves with scientific issues.
According to the firm, corporate social responsibility (CSR) should be included in the corporate agenda. Enterprises can only succeed if they operate in harmony with the community and show respect to the environment.
Focusing on education development
In Vietnam, BASF's CSR activities focus on developing the next generations and preparing them for future success through education. The company adopts this clear direction in various programs.
Erick Contreras, managing director of BASF Vietnam, said Vietnam had a long tradition to value education and promote pursuing success through learning. Investing in the next generations of scientists and future talents and leaders also means a lot to BASF's success.
One of the prominent activities of BASF is Kids' Lab, a global interactive education program.
BASF launched Kids' Lab in 2011 to help Vietnamese children learn about chemistry through hands-on experiments. Every year, it hosts about 600 primary students in an event to explore how chemistry contributes to daily life.
To date, BASF has collaborated with the HCMC Department of Education and Training to hold the program for some 5,000 primary students.
In 2018, the company introduced BASF Virtual Lab, an extension of BASF Kids' Lab, to introduce chemical experiments in Vietnamese to future scientists.
Children can explore the amazing world of chemistry from anywhere and at any time with just a digital device and the Internet connection. BASF will launch two additional experiments by the end of this year, increasing the total online experiments to 12.
Due to the Covid-19 pandemic, BASF has localized many additional online experiments in Vietnamese on BASF Virtual Lab. The company hopes to resume the in-person event of Kid's Lab in 2023.
The company has also presented computers to schools in HCMC to support local students and teachers in doing online experiments and their overall education, benefiting about 2,000 students.
Furthermore, in 2015, BASF Vietnam initiated an annual school renovation program to improve the learning environment in remote areas, mainly in the Mekong Delta. Since then, around 650 primary students have had a better learning environment per school year.
This year, the company will continue joining hands with its key customers and partners to upgrade the seventh school in the Mekong Delta province of Tra Vinh. Some 100 students, with half of them being from low-income families, will have a safer and better learning environment when the school's upgrade is completed in 2023.
Last but not least, since 2019, BASF Vietnam has built five public playgrounds to help 14,000 children, mostly in outskirt areas of Hanoi and HCMC, learn through play and develop multiple skills. The firm believes that children develop not just through formal education but also extracurriculum, outdoor activities.
Facilities at the playgrounds are all made from recycled materials, such as wood, ropes and used tires. It helps lower carbon emissions and promote the habit of giving the second life to used materials among the next generations.
In early November, BASF Vietnam will launch the sixth facility in HCMC's District 12, contributing to dealing with the shortage of public playgrounds in urban areas.
These activities demonstrate BASF's long-term commitment to support the country's sustainable development through innovation and partnership.
BASF Managing Director Erick informed that to have funds for CSR activities, BASF determined priority programs and set aside a budget for them.
It has also called on the engagement of its key customers and partners who share the same passion to contribute to the country's education development.
For example, the HCMC Department of Education and Training has lent a helping hand in introducing BASF Kids' Lab and BASF Virtual Lab programs to schools in the city.
Meanwhile, the school renovation program is facilitated by Saigon Children's Charity for the seventh consecutive year. The program has inspired many customers who provide products and finance.
In addition, BASF's CSR activities have received the selfless contribution of its employees, who volunteer to give hands-on instructions to little kids on how to do fun experiments, and to paint and decorate the new facilities of classrooms and playgrounds. They give back to the community through actions.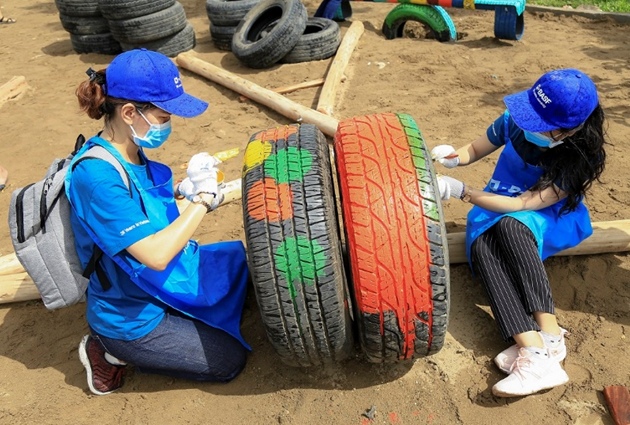 Providing sustainable products
For BASF, CSR and sustainability are not limited to charitable and community programs. Sustainability is a long journey and needs a lot of factors to be successful: a clear strategy, policy, technology, education, and especially a "learning by doing" spirit. BASF expects to contribute a great deal to this effort of Vietnam.
It wants to create chemistry for a sustainable future.
In fact, BASF provides sustainable products and solutions to help its customers respond to the increasing demand for safe and nutritious food, low emissions, energy efficiency, and reduced environmental challenges.
For example, Elastopir ®, BASF's new generation of thermal insulation material, offers not only safety and energy efficiency for buildings, but also lowers the carbon dioxide emissions into the environment as it helps protect the ozone layer by using "Blowing Agent Pentane" to replace 141b, which has been phased out in many countries, including Vietnam.
Additionally, its engineering plastics Ultramid® can be used to replace 15 different steel parts to build cars, making them about 30% lighter and therefore using less fuel and resulting in lower emissions.
Moreover, the IrgaCycle ™ product series launched in 2021 helps its customers avoid certain quality problems in mechanically recycled plastics. This means that recycled plastics can also be used for higher-value applications and recycled content can be increased in the manufacture of new products.
BASF also offers special coatings and materials like amines and coolants for wind farms that will provide the next generations with renewable energy to power Vietnam's green economy.