Over the past 30 years, Nam A Bank is one of the pioneers in humane corporate social responsibility (CSR) programs. The bank has conducted hundreds of community supporting programs and projects nationwide, thus spreading good deeds.
At the age of 30, the bank is more dynamic and creative, and commits to further integrating social activities into its business. In fact, CSR and business activities have gone hand in hand at Nam A Bank over the years. This year alone, the bank has spent VND25.5 billion (US$1.03 million) on social activities.
Developing infrastructure facilities
This month, Nam A Bank has launched multiple meaningful activities with total funding of over VND16 billion. These activities are part of the bank's "bridging to happiness" program on the occasion of its 30th anniversary on October 21.
On October 1, Nam A Bank inaugurated and handed over a road in Phu Khanh Hamlet, Chau Hoa Commune, Giong Trom District, Ben Tre Province. Earlier, residents there had to struggle with the narrow and seriously deteriorated road, especially during rainy days.
Therefore, Nam A Bank joined hands with the local authorities to upgrade and expand the road, which cost nearly VND3 billion. The one-kilometer road with its width being increased by three times now meets the travel and cargo transport demand of local residents.
Residents' dream of a solid road has come true. The new road helps connect to important facilities in Chau Hoa Commune, such as schools, a medical station and markets.
In Ben Tre, Nam A Bank has also funded the building of a bridge linking hamlets and a communal house in Mo Cay Bac District's Tan Thanh Binh Commune. These facilities are worth over VND300 million.
Moreover, Nam A Bank has completed a 285-meter low voltage network, including a low voltage power line and nine solar lights, in Phuoc Hau Commune, Can Giuoc District, Long An Province.
The bank also has plans to construct 13 bridges which require a total investment of VND13 billion in Vinh Hung District of the Mekong Delta province.
In October, Nam A Bank also constructed three houses of gratitude in Tuyen Quang, and repaired, upgraded and built 20 houses of gratitude and communal houses in Quang Nam.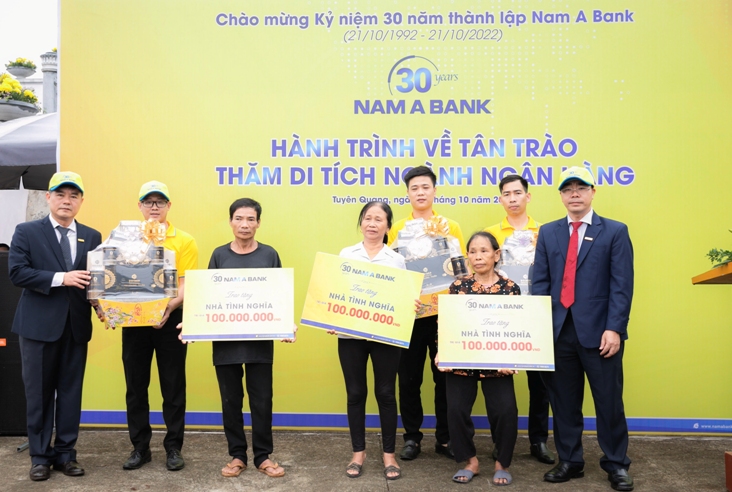 Conducting "Happy Tet" program
Early this year, Nam A Bank held the 'Happy Tet" program in many localities nationwide to help the underprivileged, especially those suffering from losses and difficulties induced by the Covid-19 pandemic, to have a warm and happy lunar New Year, or Tet holiday.
2021 was a tough and challenging year for the whole world, including Vietnam. The pandemic has not only hit the country's socioeconomy but also claimed the lives of thousands of people.
With an aim to spread love and give a helping hand to pandemic-hit households, Nam A Bank on January 19 coordinated with the HCMC delegation of National Assembly deputies to initiate the "Happy Tet" program.
The program was later carried out in many other districts in HCMC, such as Go Vap, Binh Tan, 4, Nha Be and Binh Chanh.
Through the program, 1,500 gift sets valued at VND1.5 billion were presented to children and women hit by the pandemic, especially those whose family members died of Covid-19. The gifts were expected to ease their pain and help them overcome difficulties.
Within the framework of the "Happy Tet" program, on January 20, Nam A Bank donated VND2 billion to the fund for the poor of Binh Thuan Province to join hands with the south-central province to bring a meaningful Tet holiday to disadvantaged residents.
A Nam A Bank representative said "Happy Tet" demonstrates the love of Nam A Bank's leaders and employees to the underprivileged.
Additionally, Nam A Bank has spent VND1 billion on social welfare activities in HCMC's Thu Duc City and presented savings books worth another VND1 billion to contributors to the country's revolution in the Central Highlands province of Lam Dong.
These activities have helped stabilize the life of local residents and contributed to the sustainable development of localities.
With its significant contributions to the community, Nam A Bank has been honored by many prestigious local and international organizations. In particular, the United Arab Emirates' International Business Magazine has listed Nam A Bank as the most socially responsible bank in Vietnam in 2022.