For NS BlueScope Vietnam, its products are essential materials for the economy, ensuring the durability and sustainability of infrastructure projects. But, when it comes to sustainability, it is the company's business philosophy that is praiseworthy. The company has sought to contribute to the sustainable development of the community, considering corporate social responsibility (CSR) and sustainability as core values of its ceaseless development and integrated them in the company's business strategy.
Joining hands to protect the environment
NS BlueScope commits to environmental protection and the development of the surrounding community where the company is conducting its production and business activities.
Most recently, NS BlueScope Vietnam cooperated with its partners, including INSEE, Akzo Nobel, PPG and CSVC, to organize an activity to collect waste at the Phuoc Hai Beach in Ba Ria-Vung Tau Province in response to the World Environment Day, attracting more than 300 participants. The activity is meant to develop local residents' habits of collecting and putting waste in proper places and minimizing plastic waste.
Furthermore, NS BlueScope Vietnam and its partners have presented more than 100 dustbins to coastal households and 20 others, which have been put along beaches in the province.
For the long term, it has set a target to cut the greenhouse gas emissions by 30% at its plated steel plants in Vietnam in the 2018-2030 period. To achieve the target, NS BlueScope Vietnam has improved its production lines by equipping high-efficiency machines and eliminating uneffective ones.
Especially, the company has installed rooftop solar power systems at its plants. This investment asserts the company's strategy to respond to climate change with a vision towards the "zero greenhouse gas emissions" target by 2050, and proves its commitments to the sustainable development goal in the country.
In addition, it has ceaselessly improved its technologies, applied green technologies and created environmentally-friendly products, such as Clean Color Bond-branded products, which can reduce roof temperature by up to 6°C, thus cutting the energy consumption by 15% and greenhouse gas emissions.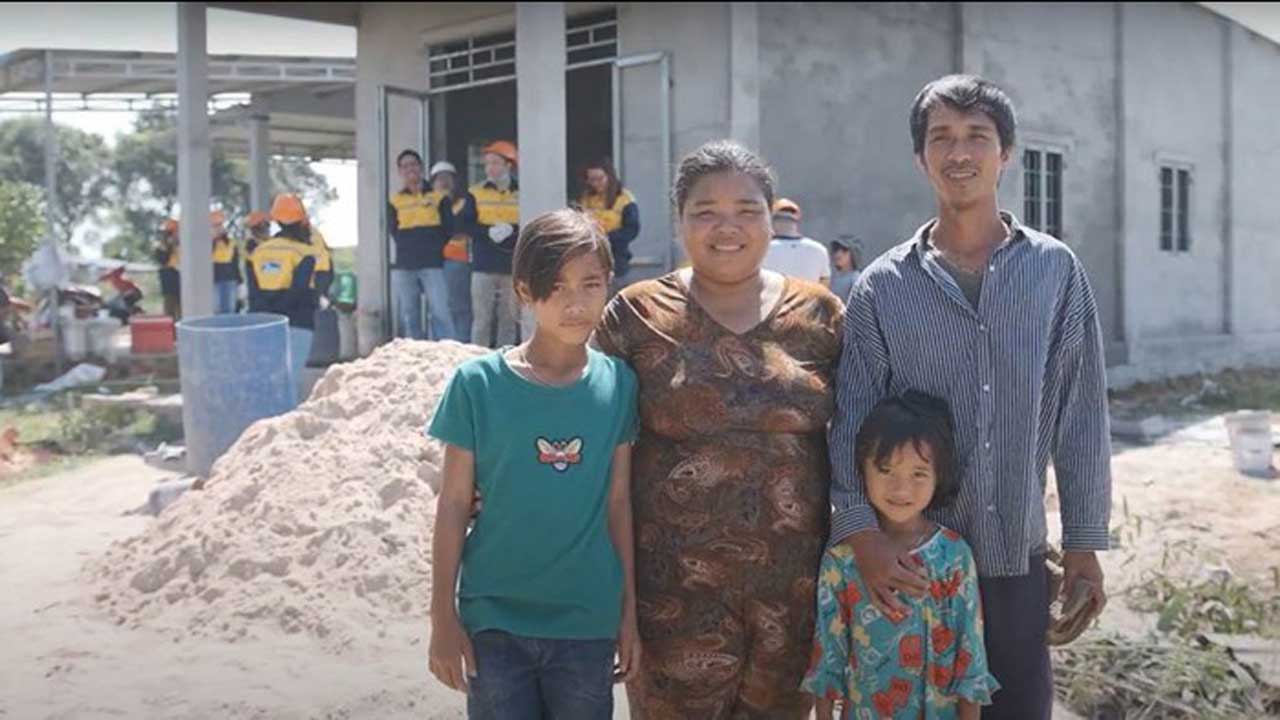 Wholehearted care for the poor
More than two decades of connecting individuals, organizations and enterprises across Vietnam has enabled NS BlueScope to create its own CSR ecosystem. In this ecosystem, the poor have received NS BlueScope's great care as the company realizes that an enterprise's success will not be sustainable if it chooses to grow separately, so all walks of life in the society should be cared for.
Therefore, NS BlueScope has always paid much attention to supporting the community, especially the poor.
Through the "Love Pieces" program, which was launched in 2018 and has been annually held since then, NS BlueScope Vietnam has coorpated with its authorized dealers nationwide to present roofs to poor households. Specifically, the company presented 150 roofs and handed over two houses to poor ethnic minority households in Ba Ria-Vung Tau Province's Chau Duc District last year.
This year, despite the Covid-19 pandemic, 50 roofs have been presented. NS BlueScope will also coordinate with INSEE Vietnam to build five houses for the poor in southeastern provinces.
The "Life Changing Opportunity" gameshow, in which NS BlueScope is a sponsor, has been popular among local residents. In the gameshow, artists and athletes have to overcome challenges to raise money for the disadvantaged. The gameshow has not only helped viewers relaxed but also promoted the "mutual love, mutual affection" spirit among the community.
Making use of 4.0 power to share with Covid-19 patients
The Covid-19 pandemic has captured the public concern since last year. Many people and enterprises have been encountering difficulties, with Covid-19 patients enduring even greater grievances. Understanding and empathizing with Covid-19 patients, NS BlueScope has established the "F0 You're not alone" Facebook Group, an online community for Covid-19 cases.
Covid-19 patients in the group can receive advice about the proper and safe treatment from doctors and get the latest knowledge about the pandemic while participating in interesting interactive activities, thus strengthening their motivation to overcome the disease. To date, the group has had over 100,000 members.
For NS BlueScope Vietnam, CSR is not only charitable activities or a tool to bring honor to the enterprise, said a representative of the company. Instead, CSR must be associated with the company's long-term development strategies and help inspire its surrounding communities, including its employees, suppliers, partners, contractors, architects and consumers, thereby heading towards a sustainable community.