Students of Vietnam Australia International School (VAS) as of this month, June 2023, have received nearly 70 scholarships to study at top universities worldwide, including in the UK, the U.S., Australia, Canada, and Finland, worth more than VND60 billion. What are the secrets of these outstanding students?
Pursuing a world-class education programme
Owning Cambridge certificates is the foremost secret that creates an advantage in the study abroad application of VAS students.
At VAS, students have the opportunity to take examinations to obtain valuable academic certificates from Cambridge, including Primary Checkpoint at the end of Grade 5, Secondary Checkpoint at the end of Grade 8, IGCSE at the end of Grade 10, AS Level at the end of Grade 11, and A Level at the end of Grade 12.
These certificates have permanent value and are considered a golden ticket to prestigious universities. According to Cambridge, IGCSE and AS/A Level certificates are accepted for admission at more than 500 universities in the U.S., all universities in the UK, most universities in Canada, Australia and Europe, and 19 universities in Vietnam.
VAS students can also shorten their university study time by choosing AS/A Level subjects included in the university curriculum.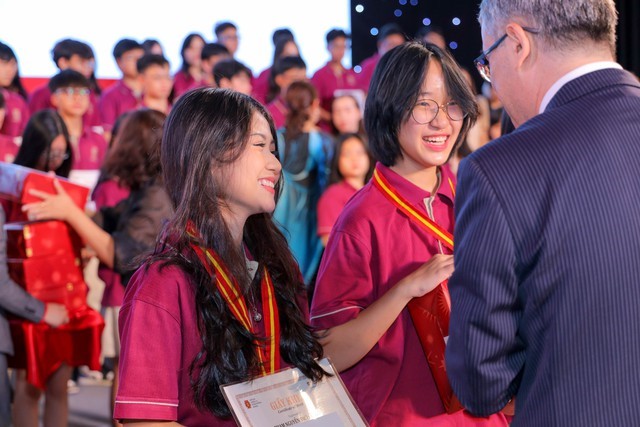 In 2022, in addition to grade 12 students, five VAS students from Grades 8 to 11 also received valuable scholarships. These students include Nguyen Hai Dang (grade 8, VAS Sala), Vu Dang Thanh Thao (grade 9, VAS Ba Thang Hai), Nguyen Duc Vinh (grade 10, VAS Garden Hills), Tran Do Minh Uyen (grade 11, VAS Ba Thang Hai), and Nguyen Duc Minh Hieu (grade 11, VAS Sala). Among them, Vu Hai Dang received up to four scholarships.
Minh Uyen, who got a 50% scholarship from the University of Melbourne, one of the top eight universities in Australia, shared: "One of the three criteria for this scholarship is to have achieved 19 out of 25 points in IGCSE, with A converted to five points, B to four points, and C to three points." Minh Uyen scored 22 out of 25 points.
The C-A* grading scale is equivalent to the Good-Excellent-Outstanding grading scale in Cambridge academic exams. This is also a common grading scale used by most universities worldwide, including Vietnam. In the Cambridge exams of 2022, the percentage of VAS students achieving grades C-A* was 85% (IGCSE), 63% (AS Level), and 76% (A Level).
In the 2022-2023 academic year, VAS students also achieved impressive results, with 25% – 41% of students scoring 3-4 A-A* grades (highest scale) in Cambridge subjects. In the Camnbridge English Programme (CEP) pathway, 38% of students in Grades 2-12 achieved A-A* grades in English. In the IELTS exam, 61% of Grade 11 and 12 VAS students achieved scores of 6.0 or above. These achievements are higher than in the previous year, particularly the increase of 11% in the number of students achieving 4 A-A* grades in IGCSE.
Additionally, VAS students have been awarded three titles of "Top in the World" and "Top in Vietnam" by Cambridge.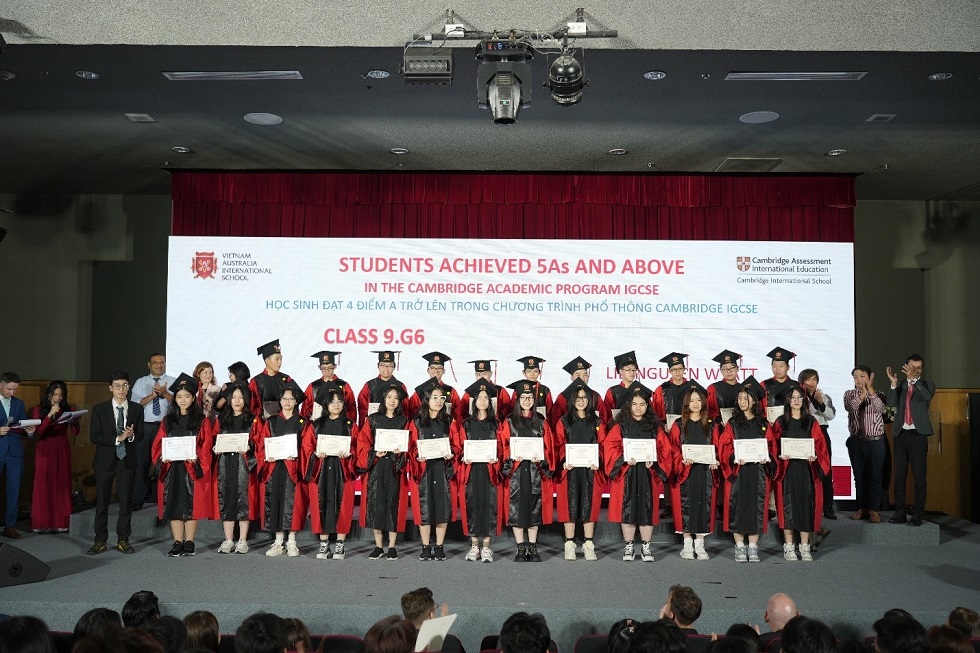 The secret of "play more, gain more"
"You must participate in extracurricular activities, community projects, volunteer programmes, etc. to enhance your chances of receiving scholarships. In addition to academic performance, schools also value your leadership abilities and social activities," said Nguyen Minh Khang (12th grade, VAS Riverside), recipient of five scholarships worth over VND3.5 billion and an IELTS score of 8.5.
Khang shared, "I feel fortunate to study at VAS because the school offers a wide range of quality extracurricular activities for us to participate in and enrich our scholarship portfolios, such as VAS Got Talent, English Speaking Contest, 3Rs, Student Council, various sports clubs, music band, student's film project, writing contest, volunteer activities and community projects as well as academic competitions like World Scholar's Cup, Math Olympics, International English Olympics…"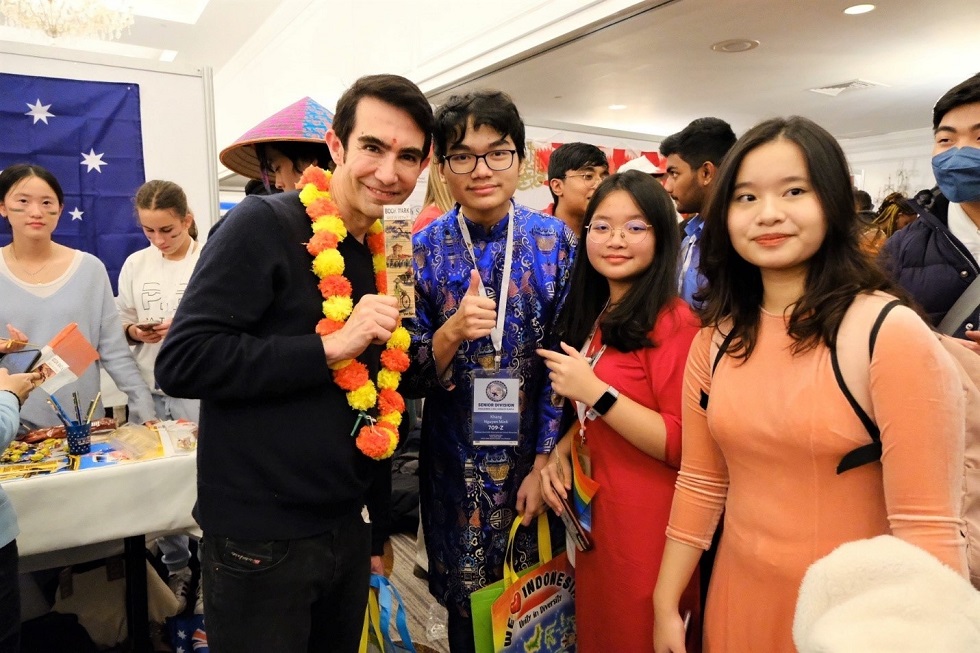 "Don't hesitate to participate in extracurricular activities, research projects, or seek additional learning opportunities to enhance your capabilities. Winning scholarships requires patience, determination, and dedication," shared Du Tu Dat (10th grade, VAS Ba Thang Hai), the recipient of a nearly VND1 billion scholarship to the U.S.
Prepare your study abroad application early and enhance your advantages with awards
According to Minh Khang, students should start preparing from grade 9 because most U.S. scholarship applications require GPA from grades 9-11, SAT, and IELTS scores.
"Starting from grade 8, VAS University Prep and Career Counsellor has been meeting, discussing, and providing me guidance on suitable majors and universities. In the following years, teachers continue to monitor and advise me when I need support or change in majors," shared Minh Khang.
According to Nguyen Vu Huy Hoang (12th grade, VAS Ba Thang Hai), the secret to winning scholarships is not only striving for good academic results and actively participating in extracurricular activities to enrich global citizenship skills but also registering for competitions related to your favorite subjects.
In the 2022-2023 school year, VAS students achieved 1,256 awards from district to international levels. This achievement also helped VAS students bring in over VND6 billion in study abroad scholarships.
To learn about Cambridge international academic programme and Vietnam Australia International School (VAS) tuition fees, and receive the enrollment promotion of up to VND30 million, please visit www.vas.edu.vn or call +84 911 26 77 55.