Pursuing the mission "for a prosperous community", Hung Thinh Land, a key arm of Hung Thinh Corporation, has emerged as a pioneer contributing to the country's socioeconomic development and prosperity, demonstrating its philosophy of accompanying the sustainable development of the community.
The journey to serve the community of Hung Thinh is praiseworthy over the past two decades. It has spent over VND1 trillion on corporate social responsibility (CSR) programs, sharing love with residents across the country.
Investing in local workforce
Understanding that people are the core of its development, Hung Thinh has spent big on the development of talents and contributed to training high-quality human resources.
On January 9 this year, Hung Thinh Land announced a fund of VND100 billion to support the training of 100,000 high-quality tourism workers in the central coastal province of Binh Dinh within three years. The tremendous sponsorship is part of the cooperation between Hung Thinh Corporation, the Quy Nhon University and the Pegasus International College.
Hung Thinh Chairman Nguyen Dinh Trung said Binh Dinh's Quy Nhon City holds high potential to become a leading destination in Asia and the world in the future. To realize the target, Quy Nhon needs high-quality human resources meeting international standards.
According to experts in the high-end tourism segment in Singapore and Europe, Hung Thinh Land's sponsorship for the training of tourism manpower shows its clear vision, strategy and understanding.
Moreover, Hung Thinh on April 1 inked a cooperation agreement with the Vietnam National University-HCMC to conduct a program to incubate Mathematics and Artificial Intelligence (AI) talents, initiating the discovery and training of young talents in Vietnam.
The program aims to develop a community of learners with passion and ability in Math and AI in Vietnam, and support them to become prestigious scientists.
The program will be carried out in five years, starting in 2022, with a budget of VND5 billion per year.
During the period, Hung Thinh will award scholarships to students and postgraduates, and fund scientific studies, local and international workshops and seminars, and the training of excellent students.
The firm will also develop a network connecting young talents and prestigious scientists in the Math and AI fields.
According to Hung Thinh Chairman Trung, this is a meaningful program to build a knowledge society. Through the program, Hung Thinh expects that knowledge can be applied to the real world, developing individuals and bringing values to the country.
Hung Thinh wants to spread the spirit that "Only by changing, learning and improving ourselves constantly to make today better than yesterday, the society can be better."
Hung Thinh kicked off the program by giving 40 scholarships worth VND20 million each to students excellent at Mathematics and IT in HCMC and Binh Dinh.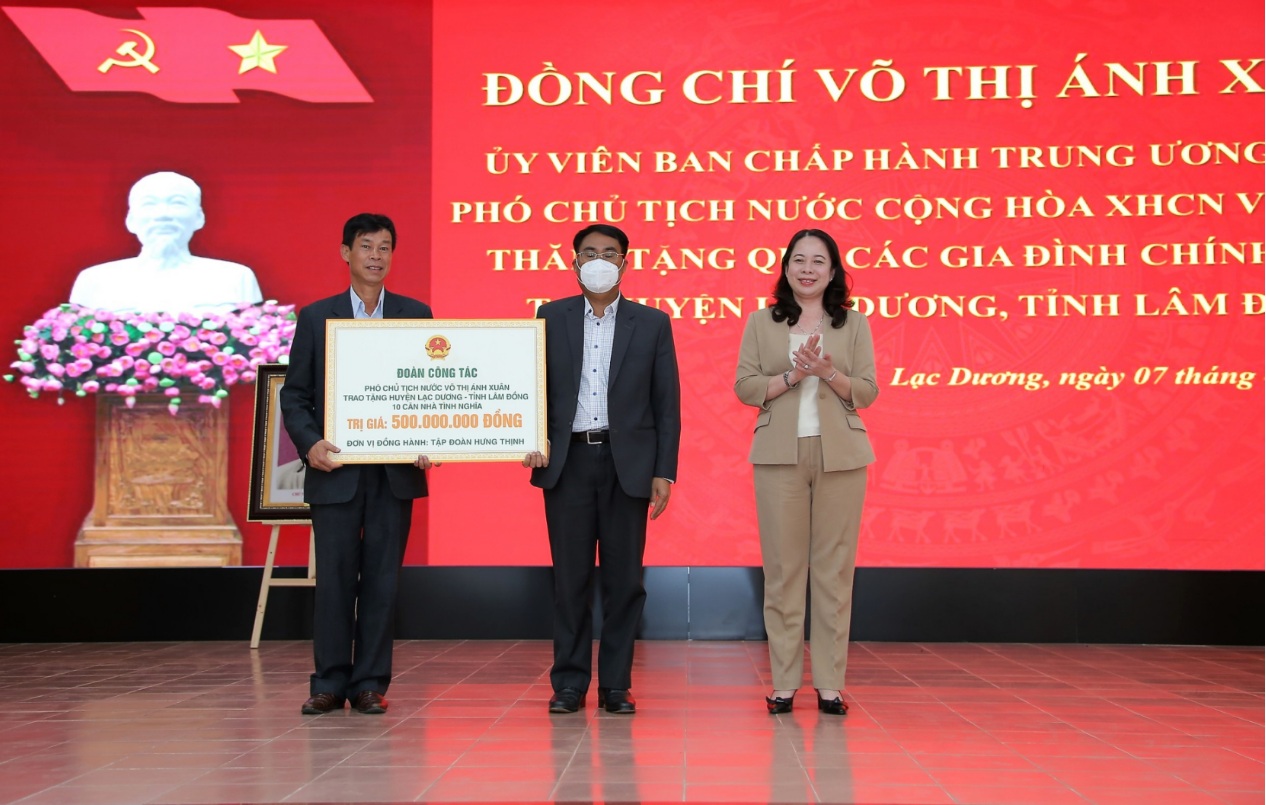 Providing homes to the poor
As a property developer, Hung Thinh has paid much attention to the building of houses for the underprivileged.
In January, it presented 10 houses of gratitude worth VND500 million to poor residents in the central province of Quang Nam.
In April, Vice State President Vo Thi Anh Xuan presented 20 houses of gratitude valued at VND1 billion to poor households in Lam Dong Province in a program financially supported by Hung Thinh. In specifics, 10 houses were built in Lac Duong District and 10 others in other poor districts of Lam Dong.
Le Hong Viet, vice chairman of Hung Thinh, said the corporation wanted to join hands with the local authorities to share the difficulties with and motivate underprivileged households to alleviate poverty and improve their lives.
Hung Thinh also has a plan to build 150,000 social houses, providing affordable homes for low-income laborers, considering the job as its responsibility.
Bringing warm Tet
During the Lunar New Year holiday, or Tet, the most important time for family reunion of Vietnamese people, Hung Thinh conducts many meaningful programs to take care of people who are facing difficulties, proving its "mutual love, mutual affection" spirit and sharing culture.
In 2021, when the Covid-19 pandemic caused a significant impact on socioeconomic activities, the poor and the elderly were among the most vulnerable.
Therefore, on January 20 this year, Hung Thinh donated VND2 billion to the poor in HCMC's Thu Duc City to offer them a warm Tet holiday.
Such a meaningful activity was also conducted in Binh Dinh and Khanh Hoa. Hung Thinh has coordinated with the governments of the two provinces to hold the "Spring of Love 2022" program, presenting over 1,000 gift sets worth VND768 million to poor families and those contributing to the country's revolution.
Through the program, which has been annually held since 2013, Hung Thinh has helped families enjoy a warmer and more joyful Tet after the tough 2021 year.
Furthermore, the corporation gave VND1.5 billion to the fund of the "Tet of Affection – Lunar New Year of the Tiger 2022″ program organized by the HCMC Farmers' Association and HCMC Television. The program helped raise funds to take care of thousands of the Association's members who are poor or near-poor.
Over the past 15 years, the program has accompanied farmers, sharing their difficulties and giving them a spring of warmth and affection.
In addition, Hung Thinh Chairman Trung donated VND200 million to the "Ease children's pain" and "Tet for the poor" programs through entrepreneurs' fund for the poor.
The contribution, together with those of other entrepreneurs, helped underprivileged families and children orphaned by Covid-19 in HCMC and other provinces have a happy Tet.
Ceaselessly supporting anti-pandemic fight
Since the outbreak of Covid-19, Hung Thinh has been an enthusiastic supporter tapping its resources to help life return to normalcy.
On January 21, Hung Thinh Corporation inaugurated and handed over facilities, including emergency buffer, vaccination and microbiological areas, to Thong Nhat Hospital to serve the fight against the pandemic.
With the spirit of continuing the fight in a long-term and effective manner, Hung Thinh Corporation and its two arms, Hung Thinh Land and Hung Thinh Incons, worked with Thong Nhat Hospital in HCMC to renovate these facilities.
For Hung Thinh, joining hands with the medical force to take care of public health and tackle the pandemic lies in not only solving urgent tasks but also building sustainable and long-term works. With these facilities, the firm wanted to motivate Thong Nhat Hospital to look after the health of residents in HCMC in the long term.
In addition to renovating these medical facilities, Hung Thinh had earlier spent VND1 billion on the hospital's Covid-19 drug research. Hung Thinh Land also joined hands with other units to donate ambulances to the hospital through the "Saigon loves each other" program.